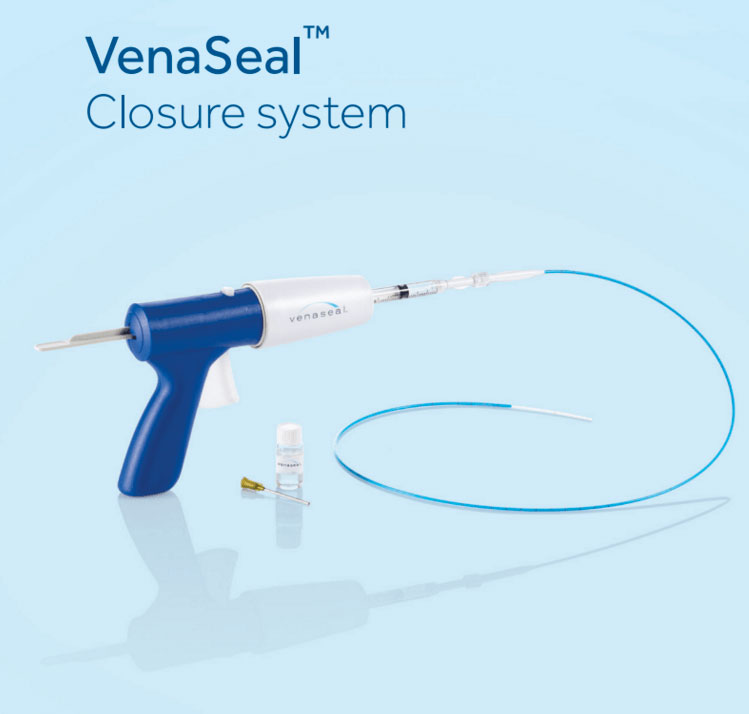 The VenaSeal Closure System is the only FDA approved procedure that uses an injection of medical adhesive to close varicose veins. The treatment is designed to close the vein and reroute blood to nearby healthy veins, providing the patient symptom relief. Because this adhesive works immediately to close the vein, you do not need to wear compression stockings after the procedure, unlike thermal energy procedures.
Benefits of VenaSeal:
Simple outpatient procedure
Fast recovery time – you can return to normal activities the same day
You don't need to wear compression stockings after the procedure
Symptoms should improve as soon as the diseased vein is closed
What are the most common side effects?
Pain at the incision site
Inflammation in the area
Bruising at incision site
Some patients have experienced an allergic reaction to the glue
Insurance Coverage:
Venaseal may be covered by your insurance.  Each patient insurance plan is different.  Our practice will help you determine if Venaseal is right for you and if you have medical benefits for coverage.
Schedule a Consultation at Denver Vein Center Today!
For more information on treatments offered at Denver Vein Center, give us a call at (303) 777-8346 or fill out our form today! We are happy to help you with any questions and walk you through our services.