Varicose & Spider Vein Treatment Options
It is estimated that more than 80 million Americans suffer from some form of venous disorder including varicose veins and spider veins.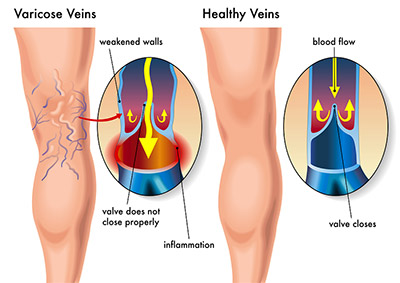 Although often thought to be only a cosmetic problem, many patients have serious symptoms that can affect their health if they do not get the vein treated.
Risk factors that may lead to the development of vein problems include: family history, age, gender, previous pregnancy, hormone therapy, obesity, and any occupation that requires standing or sitting for long periods of time. These factors cause a normal vein to become dilated.
Here at the Vein Treatment Denver, we specialize in the diagnosis and treatment of patients with varicose veins and spider veins for men and women. Our minimally invasive techniques provide very effective vein treatment for these conditions in a comfortable outpatient office setting and get you back into your normal routine with minimal downtime.
If you have any questions regarding the information in on this website about vein disease and vein treatment options please contact us at (303) 777-VEIN (8346).
Varicose Vein Treatment Facts
No hospitalization – done as an outpatient
No significant downtime
Does not require bed rest
Very little risk
Men and Women can both benefit from treatment
Professional, highly-skilled staff
Board certified surgeon
Covered by insurance carriers
Dr. Norton performs an ultrasound on the first appointment
Varicose Vein Treatment Myths
Requires hospitalization
Long time off work
Requires bed rest
Risky procedures
Only for Women
Long, painful procedures
Vein "stripping"
Insurance does not cover these procedures
Done by Ultrasound Tech
At Denver Vein Center, we use several different modalities in treating Varicose Veins.  Every patient's anatomy is different.  Dr. Norton will give you options when selecting the right procedure for you.   Our varicose vein treatments include:
Schedule a Consultation at Denver Vein Center Today!
Since 2003, Denver Vein Center has specialized in the treatment and removal of varicose veins and spider veins. If you think you are a good candidate for vein treatment, give us a call at (303) 777-8346 or fill out our contact form.