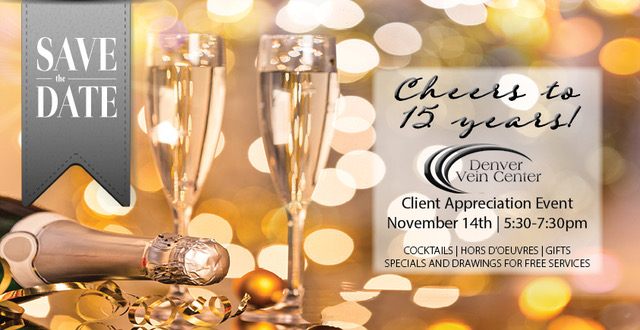 October 23, 2019
0 Comments
Denver Vein/EVEXIAS is hosting a client appreciation event to celebrate YOU! We cordially invite you for an exciting night of appetizers and drinks, gifts, and drawings for free services. Dr. Norton is excited to meet patients in her downtime and will give a short introductory speech about herself and the rest of our incredible staff. We will also be offering deep discounts and our lowest prices of the year on select services!
The goal of the event it to say thank you to all of our loyal clients and give everyone a chance to ask questions about the newest procedures available at Denver Vein/EVEXIAS. 
How does it work?
Each of our vendors will have a designated booth. Upon entering the event, you will be instructed to start a personal "passpost" which will be stamped as you go around the room and visit each vendor. Once you have visited each booth, you will be given a goodie bag filled with free samples and gifts. Your passport will also contain discounts on in house service provided on-site.
Guests will be given tickets throughout the night which can be used to enter the free giveaway drawings. You can earn more tickets by bringing a friend, completing your passport, and if you spend more than $100 at the event. The more tickets are collected, the higher your chances of winning! 
How to enter the giveaways?
Separate boxes will be set up and labeled for each of the giveaways. If you would like to enter a giveaway, insert your ticket/s into the box/service of your choice.
Free giveaways include:
Coolsculpting Cycle

Botox/

Xeomin

Neurotoxin Treatments

Fillers

Kybella

Obagi Product Package

SkinBetter Science Product Package

BHRT Package 

LHR small-area package

Compression Hose
Once again we want to say THANK YOU to all the clients of Denver Vein Center/EVEXIAS. None of this would be possible without our incredible clients and we genuinely hope to see you all at this incredible event.