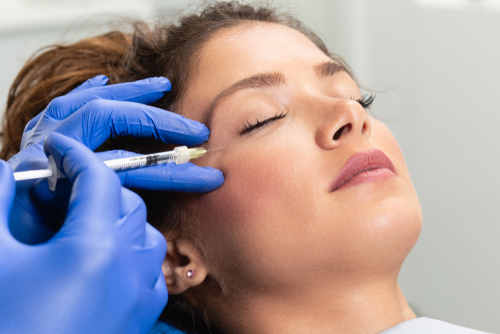 October 26, 2018
0 Comments
Aesthetic procedures are rapidly growing in popularity.  In June 2018, Dermatology News published an article which addressed the annual statistics report from the American Society for Plastic Surgery. The report states: "OnabotulinumtoxinA injections [Botox] topped the list with 7.23 million anatomic sites injected – an increase of 2% over 2016 – followed by injection of soft tissue fillers with 2.69 million procedures (up 3%)."
With the statistics of aesthetic procedures on the rise, we want our patients to feel confident and educated in the world of aesthetic procedures. In the past, Botox and fillers have caused confusion. It is important to understand how each is used so you can make an informed decision before any facial procedures.
The first step in this process is to understand the different types of wrinkles. There are two primary types of wrinkles:
Dynamic Wrinkles/Expression Lines- Usually appear as vertical lines between the eyebrows, horizontal lines across the forehead, and crow's feet at the outer corner of the eyes. These wrinkles are caused by repetitive muscle movement over the years.

Static Wrinkles- These are caused by the loss of plumpness under the skin. Static wrinkles can frequently be found under the eyes, on cheeks, and in the jowl area.
What is Botox?
Botox, or OnabotulinumtoxinA, is a neurotoxin. It works by blocking nerve signals in the muscles under the injection site. Since the nerve signals are interrupted, the muscle is temporarily paralyzed. This is why Botox is the preferred treatment for dynamic wrinkles. By preventing movement, wrinkles may be softened, reduced, or even removed by botox injections. Botox targeted areas include:
Forehead

The outer corner of the eyes

Around the lips
What are Fillers?
Fillers, or soft tissue fillers, are used to replace fullness under the skin. There are countless brands of fillers and many different uses and applications. The filler used to plump your lips is most likely composed of a different material than the filler used to fill in droops in the neck and cheeks. This is why it is important to do your own research and talk to your doctor prior to any procedures. Fillers are most commonly used to treat:
Thinning lips

Sunken under eyes

Withered cheeks

Recessed scars

Static wrinkles
Book your appointment now for Botox or Filler Services at Denver Vein!
At Denver Vein, we look forward to seeing new patients walk through our doors! Our staff is trained and knowledgeable on the different aesthetic procedures and we are committed to helping our patients find the perfect procedure to fit their needs. Call us at (303) 777-8346 to set up your appointment today.