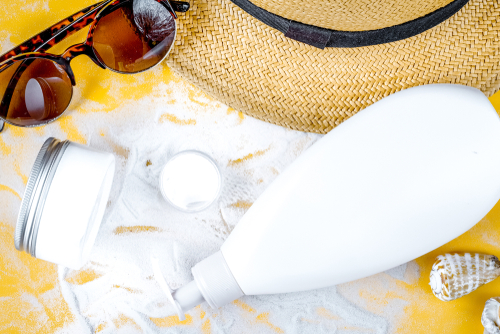 During the hot days of summer, your skin doesn't behave the same way it does during the cold, winter season. The heat makes your skin appear greasy, dirty and packed full of impurities that take away that fresh appearance your skin is known for.
Below are five tips to help keep your summer skin in tip-top shape!
Cleanse Morning and Night
Sticky summer air leaves your face looking a bit greasy. Help sweep the dirt, oil, and impurities from the surface of your skin with a clay facial cleanser or micellar water, morning and night. Most don't require washing off so keep a bottle of your favorite cleanser and a few cotton balls next to your bed or in your purse to refresh your face on the go.
Use a Water-based Moisturizer
During colder months, you may find that you need to use a richer cream to keep your skin hydrated. However, in warmer weather, a lightweight face lotion is all you need to keep your skin looking great. Test out a few water-based moisturizers with a matte finish and pick a favorite! It's best when applied gently to the face after cleansing.
Sun Protection Measures
You should take precautions against the harsh rays of the sun yearly, but because you spend extra time outside during the summer, it's essential to protect your skin every day. The Food and Drug Administration (FDA) recommends using a broad-spectrum sunscreen with an SPF of 15 or higher.  You should apply the lotion at least every two hours and immediately after swimming or excessive sweating.
For extra protection throw on a broad-brimmed summer hat and a pair of UV-blocking sunglasses, especially if you are outside during the peak hours of 10 a.m. to 2 p.m. If you do burn, try aloe vera and a skin burn cream to help ease the pain.
Fake your Glow
Instead of cooking in the sun for that beautiful summer glow, try a self-tanner instead. It's essential to determine what type of coverage you want when choosing the best tanner formula for yourself. Some are designed to build a tan gradually while others have an instant glowing effect. Make sure to cleanse, exfoliate, and use an oil-free moisturizer before applying the tanner to ensure the color goes on smoothly.
Throw a Mattifying Face Mask and Scrub into your Routine
Impurities and excess oils build up on the surface of your skin over time, leaving your complexion looking oily. A mattifying face mask will help draw out that build up of dirt and reduce the look of excess shine. It's best to apply a layer to clean dry skin, leave on for 10-15 minutes, and remove with water. Use three times a week for the best results.
On the days you don't apply the mask, try a mattifying face scrub to gently exfoliate for tighter-looking pores and a less shiny visage with every use.
Schedule Your Appointment For Glowing Summer Skin
Denver Vein Center offers a variety of beauty treatments such as Coolsculpting, Kybella®, Microneedling, and others to keep you looking your best!
Give us a call today to schedule your appointment for glowing skin at (303) 777-8346!